Make your own Damar Varnish.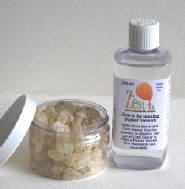 We have put together Gum Damar (Dammar) and Zest-it for those who wish to make Damar Varnish for their own use.
100 gm of best Indonesian Gum Damar, which we use to make our own varnish with 200 ml Zest-it. (shown right)
To make your own varnish you will need:-
A container, preferably glass, that will hold at least 300 ml (1/4 Imperial pint) having a lid is an advantage. Cling film if you have no lid. (jam jar/ coffee jar)
A stockinette or muslin bag/cloth.
A small piece of twine/string/strong cotton.
A funnel or the equivalent.
A filter paper/kitchen towel/coffee filter.
A clean container, with lid, to filter varnish into.
Caution:- Gum Damar is a dusty material, work in a well ventilated area. Refrain from handling the Gum Damar as it is very drying to the skin and 'sticky'.
Process:-
Place a piece of kitchen towel on your work surface. Place the muslin bag on the kitchen towel and empty the pot of Gum Damar into it. Secure the bag of gum with string.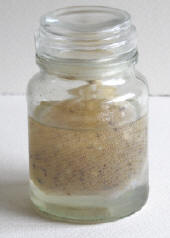 Place the 200 ml of Zest-it into your glass container/jar, lower the bag of gum into the Zest-it, letting the string trail over the side. Carefully tip the small gum particles from the towel into the container and dispose of the towel.
Now fit the lid, trapping the string, to hold the bag suspended in the Zest-it, but cut the string close to the lid or it will act as a 'wick' and drain off the Zest-it. Put to one side, in a warm place if you wish and 'patiently' wait for one to two days, a gentle 'swirl' of the liquid after 24 hours is helpful.
At the end of two days, often sooner, the gum will be dissolved in the Zest-it. The muslin bag will have retained all the bark and bits, remove the bag and dispose.
You now have Damar Varnish. In the base of the container will be visible sediment of a brownish colour. You can leave to stand for a further day or you can filter it.
You could decant the varnish off the sediment at this point and use it, but it still has suspended matter in it, which would be transferred to your painting, so its best to filter it.
Place your filter paper in the funnel and place this in your clean dry container. Slowly decant your 'clear' varnish into the funnel and allow to filter, top up the funnel as necessary.
Eventually you will arrive at the sediment, depending on the quality of the filter paper, you can filter this also or dispose of it. Be aware, filtering this sediment can cause the varnish to go 'cloudy', due to the minute particles in suspension, you could ruin what has already been filtered!
You now have Damar Varnish ready to use. Put a lid on the container of Damar Varnish, label with the date you made it and enjoy the sense of achievement. Store in a cool, dark, dry place and keep away from children.
Wipe/wash the funnel in Zest-it, then with soap and water. Clean-up with a cloth dampened with Zest-it. Dispose of empty bottles, used cloths, filter papers, container, etc., responsibly. Wash hand after use.
This strength of solution is excellent quality picture varnish when made with Zest-it. It can be diluted up to 25% with Zest-it to make a Retouching Varnish.
Decant varnish into the empty pot supplied with the Gum Damar, for easy brush access, when varnishing your painting, stone-work, wood-work, craft-work.
If you already use Zest-it you can purchase just Gum Damar and follow the same procedure.
If you wish to purchase Zest-it Damar Picture or Retouching Varnish ready to use, then please use the link below.
Copyright 2009 Jacqui Blackman
About Zest-it Zest-it Damar Varnish Varnish brushes hog Soft varnishing brushes

Suitability for Use
The information contained in this document is furnished without warranty of any kind. Whilst every care is taken to maintain the highest standards of quality, J. & T. Blackman Ltd. whish to make it clearly understood that it is the users responsibility to ensure that the goods are suitable for his or her own particular requirements. In no circumstances can claims be entertained for the value of work alleged to be spoilt by the use of a product which proves unsatisfactory, the makers liability being confined to replacement of any product proved to be defective in respect of materials or workmanship.