Pelikan
4001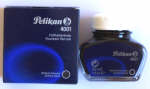 Pelikan have been making quality inks since 1800's; 4001 ink was designed, tried and tested for traditional Pelikan fountain pens; suitable for many other fountain pens with plunger mechanism and converter.

The ink is formulated to care for the pen and nib; ink flows freely and is water-soluble; good dense colours that gives clear line definition.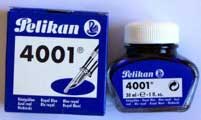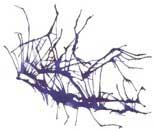 Royal blue can be eradicated and washed out;
Recommended by many fountain pen enthusiasts to be a 'safe' ink as it doesn't stain and clog pens.

Blotch Picture courtesy of Pelikan.com
We carry Pelikan 4001 in 30ml sizes in Brilliant Black, Blue Black, Brilliant Brown, Brilliant Green, Brilliant Red, Royal Blue, Turquoise and Violet.
Pelikan
Drawing Ink A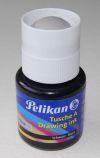 Pelikan Drawing ink A is highly recommended especially for drawing and painting; for use with ruling pens, drawing pen, some technical pens and brushes; excellent with dip pen nibs where a permanent finished is required for pen and wash.

Permanent when dry; archival and lightfast; often used for tattoos and cartoons; for use on paper, bristol board, panels, silk, canvas, linen, wood, leather, parchment and velum.

Will give fine dense lines with definition.

Available in the 10 ml size in 10 colours; Black, Blue Violet, Burnt Sienna, Carmine Red, Cobalt Blue, Deep Green, Light Green, Ultramarine, Vermillion and Yellow.
We have Black and Burnt Sienna available in 30mls.
We carry 250ml Sizes of Black and White with the following colours by Special Order only - Blue Violet, Dark Green, Sepia, Ultramarine, Vermillion and Yellow.
For the volume user we carry 1 Litre Black

Drawing board accessories Pelikan Inks Dip Pen Nibs and Sets Pounce Pouches Ink Selection

Copyright Jacqui Blackman 2009